Yorkie Checks
Order Yorkshire Terrier design personal checks online! Bank checks with pictures of cute Yorkies on them available in several different designs.
---
Yorkshire Terrier Checks cute and cuddly.
---
Yorkie Transformation Checks spa day pics.
---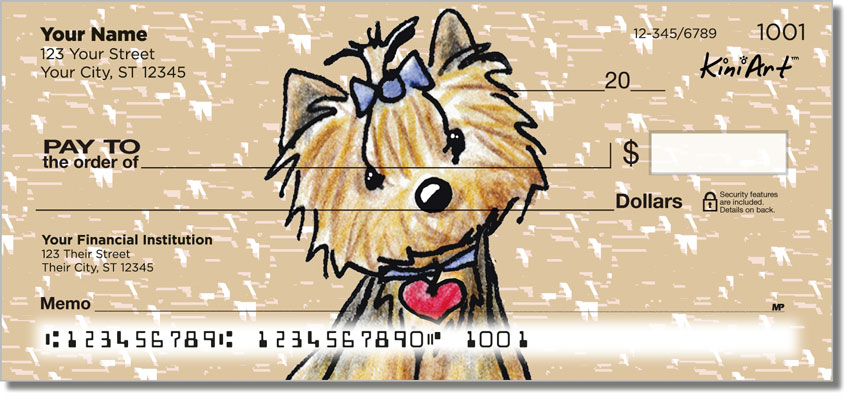 Yorkie Series 2 Checks - 4 drawings from Artist Kim Niles, creator of KiniArt. With sweet faces staring quizzically up at you, how could you help but take them home?
---
Yorkies Outdoors 3 pictures of these cute little doggies out in the field and sitting the garden, and one relaxing with his stuffed animal friends.
---
Yorkshire Terier Devotion Checks 4 cute poses.
---
Yorkie Pups 4 alternating photos.
---
Playful Yorkie Checks 4 different images of Yorkshire Terriers at play.
---
Yorkshire Terrier Puppy Checks 4 alternating images of a pair of cute Yorkie puppies.
---
Yorkie Photos Checks By photographer Faith A. Uridel. Matching address labels and leather checkbook cover also available. Use offer code DWF008 at checkout for free shipping when you order this check style.
---
Yorkie Dog Checks 4 paintings by Pollyanna Pickering.
---
Yorkie Pup Checks in 4 different colored backgrounds.
---
Cute Yorkshire Terrier Checks "Faithful Friends" art series.
---
---
Beware Of Yorkie Dog Checks
---
---
Yorkie Series 1 Personal Checks
---
Yorkie Series 3 Checks
---
Teacup Yorkies Checks They say good things come in small packages and these tiny teacup Yorkshire terriers are no exception!
---
I Love My Yorkie Yorkshire Terrier Postage stamps available in your choice of denominations for first class or priority mail.
---
YORKIE CHECKS | YORKIE T-SHIRTS | YORKIE GRAPHICS
YORKSHIRE TERRIER GIFTS | YORKIE COFFEE MUGS | YORKIE FIGURINES
GOLD YORKIE CHARMS | YORKSHIRE TERRIER STUFFED ANIMALS
CHECKBOOK COVERS | ADDRESS LABELS | YORKIE MAGNETS
YORKSHIRE TERRIER CALENDARS | STICKERS
ORNAMENTS | JEWELRY | WATCHES | CLOCKS | SIGNS
KEYCHAINS | HANDBAGS/TOTES | THROW PILLOWS | THROW BLANKETS
iPHONE COVERS | GALAXY COVERS | MOUSEPADS
STATIONERY/NOTEPADS | GREETING CARDS
---
---
---
Over 50 different Breeds Dog Checks at DoggieChecks.com
Over 10,000 styles designer checks at Personal Checks USA
Golden Retriever Checks | Bulldog Checks | Labrador Retriever Checks
Boxer Checks | Pit Bull Food | Food Personal Checks