Yorkie Clocks
Yorkshire Terrier design wall clocks in a variety of styles.
---
Youthful Yorkies Cuckoo Clock: On a warm spring morning or a crisp fall afternoon, every season is better with a loyal companion - especially when that companion is a sweet Yorkie! Now, let this lovable breed brighten every moment with the Youthful Yorkies Cuckoo Clock, a limited edition exclusively from The Bradford Exchange. This timely masterpiece by award-winning artist Linda Picken showcases not one, but two of her most beloved Yorkie portraits on a custom-crafted cuckoo clock. Best of all, at the top of every hour, the shuttered doors at the top swing open, and a miniature sculpted Yorkie "cuckoo" emerges with a cheerful bark!The endearing artistry of Linda Picken brings color and warmth to this cuckoo clock, which features an irresistible Yorkie portrait on the clock face and a second image of two Yorkies just below. Sculpted roses add traditional charm to the chalet-shaped wooden clock body, while a precision quartz movement, brass-toned pendulum and decorative pine cone weights keep the time with reliable accuracy. With so many best-in-show features to admire, the Youthful Yorkies Cuckoo Clock is sure to spark eager demand. So don't delay, order now!
---
Yorkshire Terrier Clock: Hurry up, time is ticking away....go ahead and nab your very own Yorkshire Terrier Clock! These Yorkshire Terrier Clocks are sweet and pretty darn neat! We think this Yorkie Clock is one of those things that you will gaze upon happily for many days to come after your initial purchase. It's a little extra way for you to show your affinity for your little pooch; a Wall Clock in their honor. We have no doubt, however, that the little fuzzy muffins believe they are more than worthy of it!
---
Swinging-Tail Pendulum Dog Clock - Yorkshire Terrier: Cleverly designed and downright lovable! Made of lightweight wood, the Yorkshire Terrier's swinging pendulum tail always brings a smile. Wall clock measures 12" tall and runs on 1 "AA" battery (not included). Artist-designed and crafted in the USA.
---
Yorkshire Terrier Wall Clock: Let this Yorkshire Terrier Wall Clock remind you of your passion for these wonderful animals time and time again. Designed with precision quartz movement, our 100% American made Yorkshire Terrier Wall Clock showcases wonderful images associated with the Yorkshire Terrier loving lifestyle. This finely crafted wall clock is designed for indoor use, made by the Giclee Printing Process, which provides rich, true to life colors that are fade resistant, and at 10 inches across, it makes a bold addition to any study, kitchen or bedroom. When it comes to displaying your respect for the wonderful Yorkshire Terrier, our Yorkshire Terrier Wall Clock, with a matte finish for an elegant look, are as bold and soulful as the animal they celebrate.
---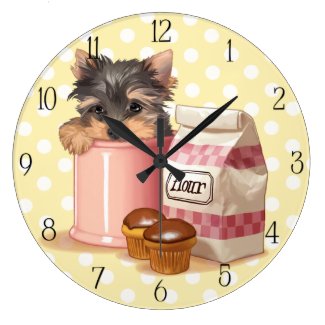 Yorkie and chocolate cupcakes wallclocks: Cute yorkie puppy with kitchen utensils and chocolate cupcakes with yellow background, painted by artist Maryline Cazenave.
---
MANY MORE YORKSHIRE TERRIER CLOCKS at ZAZZLE
---
YORKIE CHECKS | YORKIE T-SHIRTS | YORKIE GRAPHICS
YORKSHIRE TERRIER GIFTS | YORKIE COFFEE MUGS | YORKIE FIGURINES
GOLD YORKIE CHARMS | YORKSHIRE TERRIER STUFFED ANIMALS
CHECKBOOK COVERS | ADDRESS LABELS | YORKIE MAGNETS
YORKSHIRE TERRIER CALENDARS | STICKERS
ORNAMENTS | JEWELRY | WATCHES | CLOCKS | SIGNS
KEYCHAINS | HANDBAGS/TOTES | THROW PILLOWS | THROW BLANKETS
iPHONE COVERS | GALAXY COVERS | MOUSEPADS
STATIONERY/NOTEPADS | GREETING CARDS
---
---
---
Over 50 different Breeds Dog Checks at DoggieChecks.com
Over 10,000 styles designer checks at Personal Checks USA
Golden Retriever Checks | Bulldog Checks | Labrador Retriever Checks
Boxer Checks | Pit Bull Food | Food Personal Checks