Yorkie Mousepads
Yorkshire Terrier design computer mousepads in a variety of styles.
---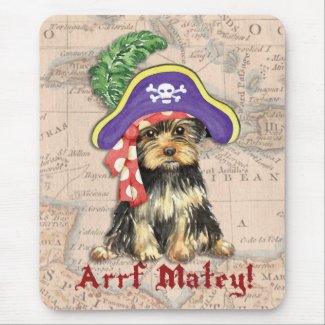 Yorkie Pirate Mousepad Arrf, ye matey! Fly the Jolly Roger and take to the high seas with this cute pirate Yorkie pup wearing a pirate hat and bandana. Great design to appeal to all Pirate and Yorkshire Terrier lovers on land and sea alike.
---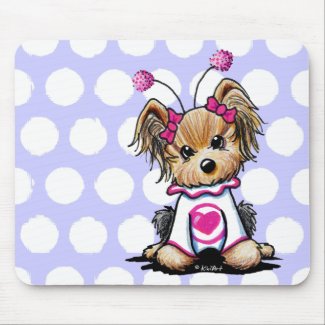 Yorkie Terrier Love Bug Mousepad: KiniArt Yorkshire Terrier dog breed art by children's book Illustrator, Kim Niles.
---
Smile Spektor Mouse Pad: Original soft pastel of 5yr old Yorkshire Terrier.
---
Yorkshire Terrier Mousepad: You will love looking at the angelic face on this Yorkshire Terrier mousepad. Now you can have your favorite pet sitting quietly by your side as you surf the Web or type that report. The Yorkie mousepad is made of a durable polyester fabric and a no-slip rubber base for optimal traction. The full-color picture is so lifelike you'll be tempted to adjust its red bow. Yorkshire Terrier mousepads make great gifts, but be sure to save one for yourself. This mouse pad is so cute you may have difficulty covering it with a computer mouse.
---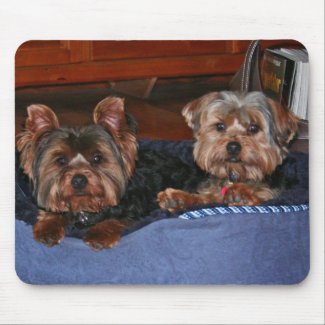 Yorkies - buddies mouse mat: 9.25" x 7.75" – Perfect for any desk or work space.
---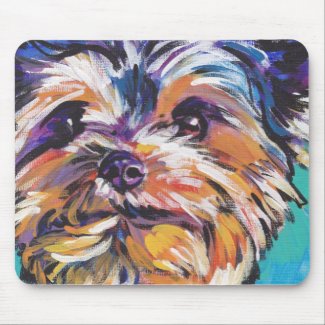 Yorkshire terrier Colorful Pop Dog Art Mousepad: Non-slip backing.
---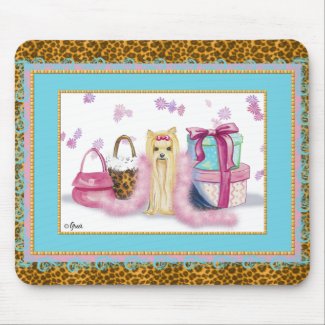 Pampered Yorkie with Leopard Animal Print Mousepad: Fun and unique art print with yorkie and hatboxes with leopard print frame.
---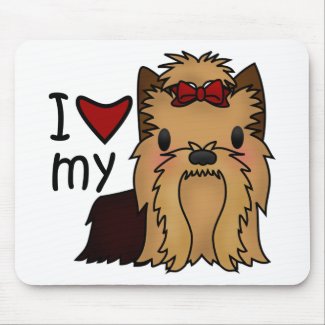 I Love My Yorkie, Cartoon Yorkshire Terrier Mouse Pad: Perfect for you Yorkie Lovers... this adorable Yorkie is just perfect to show off how much you love your little pup!
---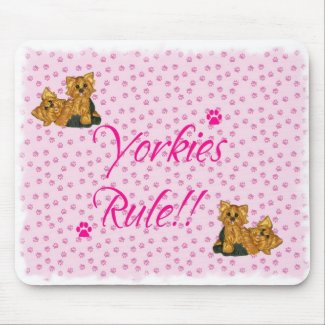 Yorkies Rule!! Pink Paw Print Mouse Pad: A perfect mouse pad for the Yorkshire Terrier lover! Pink paw print background featuring my clay Yorkie art!
---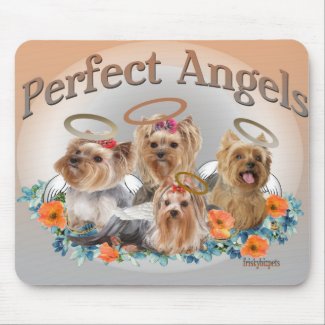 4 Yorkie Perfect Angels mousepad: is a gift fans of Yorkie will enjoy each time they use their computer and is a Friskybizpet Design.
---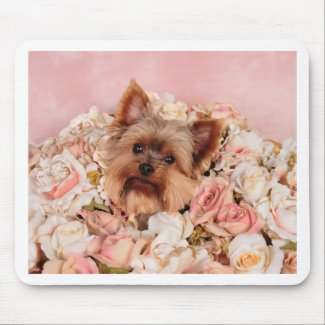 Flower pup mouse mats: Durable cloth cover is dust and stain resistant.
---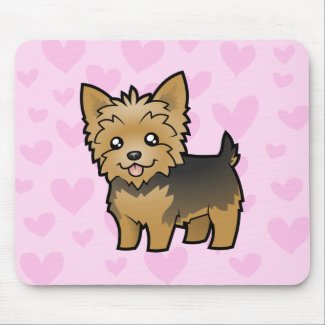 Cartoon Yorkshire Terrier Love Mousepad: This style is available in your choice of several different dog colorations and long hair/short hair options. Click through and enter "cartoonize yorkshire" to view all options on mousepads and other gift/decor items.
---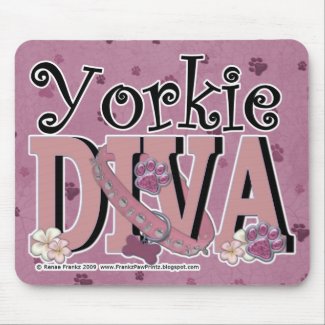 Yorkie DIVA Mouse Pads: Show the World that YOU are a PROUD Yorkshire Terrier Dog Owner! This DIVA design is embellished with a dog collar and Pink Paw Prints.
---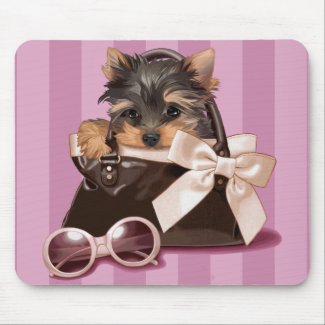 Spoiled Yorkie Mousepad: Cute yorkie puppy in retro handbag, painted by artist Maryline Cazenave.
---
MANY MORE YORKSHIRE TERRIER Mouse Pads at ZAZZLE
---
YORKIE CHECKS | YORKIE T-SHIRTS | YORKIE GRAPHICS
YORKSHIRE TERRIER GIFTS | YORKIE COFFEE MUGS | YORKIE FIGURINES
GOLD YORKIE CHARMS | YORKSHIRE TERRIER STUFFED ANIMALS
CHECKBOOK COVERS | ADDRESS LABELS | YORKIE MAGNETS
YORKSHIRE TERRIER CALENDARS | STICKERS
ORNAMENTS | JEWELRY | WATCHES | CLOCKS | SIGNS
KEYCHAINS | HANDBAGS/TOTES | THROW PILLOWS | THROW BLANKETS
iPHONE COVERS | GALAXY COVERS | MOUSEPADS
STATIONERY/NOTEPADS | GREETING CARDS
---
---
---
Over 50 different Breeds Dog Checks at DoggieChecks.com
Over 10,000 styles designer checks at Personal Checks USA
Golden Retriever Checks | Bulldog Checks | Labrador Retriever Checks
Boxer Checks | Pit Bull Food | Food Personal Checks