Signs and Flags
Yorkshire Terrier design signs and flags in a variety of styles.
---
---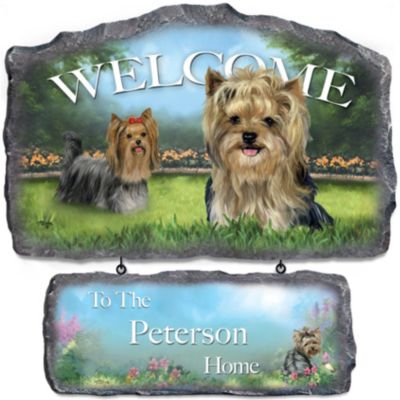 Lovable Yorkies Personalized Welcome Sign Wall Decor: As anyone who owns a Yorkshire Terrier will tell you, these loyal dogs know exactly how to win your heart and fill your home with love. Now, the sweet faces of these tiny terriers make it clear that your home is owned by Yorkies, thanks to this first-ever Yorkie personalized welcome sign by acclaimed artist Linda Picken, exclusively from The Bradford Exchange.Handcrafted of durable artist's resin to create the look of natural stone, this adorable personalized tribute showcases a full-color Yorkies portrait by Linda Picken, along with a friendly greeting. Best of all, your family name is custom printed on the bottom plaque! Sure to charm dog lovers everywhere, this Yorkie personalized welcome sign is a heartwarming way to greet all your visitors with the cutest welcoming committee around. Strong demand is anticipated, so don't wait. Order Now!
---
Yorkie House Flag:A bigger personality on 4 legs you never will find until you see this dazzling Yorkie House Flag. You'll adore your English Terrier and friends will too on this large, vibrant 28 x 40 inch double sided House Flag. Functional as well as fun, your Yorkie House Flag will stay the course in any weather conditions with this back to back, life like image complete with a durable 2 year guarantee against fading or tearing.
---
Yorkie House Flag Show Cut: Think outside of the box and create a real sensation with your exceptional Yorkie House Flag Show Cut. This tough Flag is a large 28 x 40 inches with an eye catching double sided image tailor made to withstand any storm. A 2 year no fade or rip guarantee comes with this canine champion that you will be proud to display or give as a cool gift this year. Take the style prize in your neighborhood with the Yorkie House Flag Show Cut right away.
---
All You Need is Yorkshire Terrier Box Sign: Show your love for your best friend with this decorative box sign. Primitives by Kathy's About My Dog Box Sign is made of wood and is designed to be displayed by sitting or hanging. It reads "All you need is love and a Yorkshire Terrier."
---
My Yorkshire Terrier Lives Here Sign: Printed on weather resistant polypropylene. For use indoors or outdoors—printed with fade resistant inks. Sign can be placed in a window or fixed to a gate or door. A great gift for anyone with a Yorkie!
---
Yorkie 2.8 Seconds Warning Sign: Our Yorkie 2.8 Seconds Sign will look great outdoors or indoors. Made from high impact styrene, this durable and weather resistant Yorkie 2.8 Seconds Sign is both functional and fun. Easy to install, each sign can easily be mounted to your post, wall, deck, fence, etc. Each Yorkie 2.8 Seconds Sign measures approximately 11 x 11 inches.
---
Yorkie Security Force Sign: will make it crystal clear to anyone entering your home or property that you are under the watchful protection of at least one Yorkie. Our fun and bold Yorkie Security Force Sign measures 11 x 11 inches and is made from a high impact styrene which makes it durable and weather resistant. Whether this warning sign is posted on your front gate or sitting in the front window, the world will know they've set foot onto Yorkie territory. Make no bones about it, you've got the best security system around.
---
Yorkshire Terrier Caution Sign: Beware Of Yorkie! This Sign will warn the world that there is a fierce and ferocious little tyrant running around protecting your property. Well, maybe your pup is all bark and no bite, but intruder's won't know that and your friends will just smile at your official looking Yorkie Sign. Made of high impact styrene for durability, this Yorkshire Terrier Guard Sign is weather resistant and will look excellent hanging on a fence post or front porch. This Warning Sign measures bout 11 x 11 inches in size.
---
Yorkie Crossing Sign: Delight friends and visitor with this cute Yorkshire Terrier sign. The Yorkshire Terrier sign depicts a full color picture of your favorite canine with an attractive red bow. Let everyone know who really rules with this adorable guard sign. The lovely Yorkie sign is a simple way to let guests know that your Yorkshire Terrier is on the prowl. The Yorkie warning sign is the perfect accessory for your home or garden and is sure to be a crowd favorite with all who see it. The Yorkshire Terrier sign measures approximately 12 x 12 inches.
---
Yorkshire Terrier Welcome Sign: a great way to greet your guests and decorate your entryway. Hand painted and made of solid wood, this Yorkie item is perfect for owners of this inquisitive, dainty dog breed who also have an eye for quality. The fine detail of this handcrafted in USA Yorkshire Terrier Welcome Sign will impress everyone who sees it. You will receive oodles of compliments on this cute home decoration. Have us paint your pet's name on the 3/4" bone for personalization that's above the doghouse (only $4.99), or choose the blank option-the Yorkshire Terrier Welcome Sign can be customized by you or left as is. Comes with a predrilled hole for hanging. Measures 13" x 10".
---
YORKIE CHECKS | YORKIE T-SHIRTS | YORKIE GRAPHICS
YORKSHIRE TERRIER GIFTS | YORKIE COFFEE MUGS | YORKIE FIGURINES
GOLD YORKIE CHARMS | YORKSHIRE TERRIER STUFFED ANIMALS
CHECKBOOK COVERS | ADDRESS LABELS | YORKIE MAGNETS
YORKSHIRE TERRIER CALENDARS | STICKERS
ORNAMENTS | JEWELRY | WATCHES | CLOCKS | SIGNS
KEYCHAINS | HANDBAGS/TOTES | THROW PILLOWS | THROW BLANKETS
iPHONE COVERS | GALAXY COVERS | MOUSEPADS
STATIONERY/NOTEPADS | GREETING CARDS
---
---
---
Over 50 different Breeds Dog Checks at DoggieChecks.com
Over 10,000 styles designer checks at Personal Checks USA
Golden Retriever Checks | Bulldog Checks | Labrador Retriever Checks
Boxer Checks | Pit Bull Food | Food Personal Checks